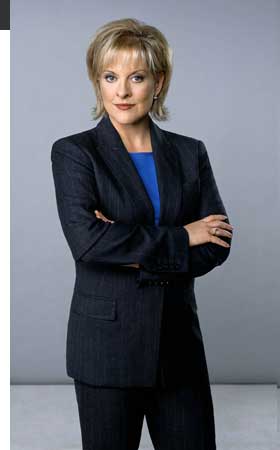 Anne Bremner, my longtime friend and colleague is a trial lawyer through and through! In Justice in the Age of Judgement, Anne takes you on a true-life, high-speed roller coaster of life in the courtroom. We "camped out" at many courtroom, never missing a minute of courtroom action, then nearly come to blows on air over our VERY DIFFERENT ANALYSIS! Anne Bremner weaves a narrative of what REALLY happened in and out of court on some of the most high-profile cases such as Tot Mom Casey Anthony, Michael Jackson and more, as only a true trial lawyer can! Tell it Anne!

Nancy Grace, legal analyst and TV journalist and author of 'Don't Be A Victim: Fighting Back AGainst America's Crime Wave'
#1 New Release in Media and the Law, Justice in the Age of Judgment: From Amanda Knox to Kyle Rittenhouse and the Battle for Due Process in the Digital Age is available on kindle / ebook /nook for $4.99 this week only.
From Amanda Knox to O.J., Casey Anthony to Kyle Rittenhouse, our justice system faces scrutiny and pressure from the media and public like never before.  Can the bedrock of "innocent until proven guilty" survive in what acclaimed Seattle attorney and legal analyst Anne Bremner calls the age of judgement?  

When unscrupulous Italian prosecutors waged an all-out war in the media and courtroom to wrongly convict American exchange student Amanda Knox for a murder she didn't commit, family and friends turned to renowned Seattle attorney and media legal analyst Anne Bremner to help win her freedom. The case was dubbed the "trial of the decade" and would coincide with the explosion of social media and a new era of trying cases in public as much as the courtroom. While Italian prosecutors, the press, and online lynch mobs convicted Knox in the court of public opinion, Bremner would draw upon her decades in the courtroom and in front of the camera to turn the tide with a new kind of defense in pursuit of justice.

In Justice in the Age of Judgement, Anne Bremner and Doug Bremner take us inside some of the biggest cases of recent times and offer their expert, thought-provoking insights and analysis as our legal system faces unprecedented forces fighting to tip the scales of justice their way. Why couldn't prosecutors convict O.J. Simpson despite all of the evidence seemingly proving he killed his wife Nicole? Could a jury remain unbiased in the face of overwhelming public pressure in the trial of Minneapolis police officer Derek Chauvin for the murder of George Floyd? Why was Kyle Rittenhouse exonerated after shooting three people (killing two) with an assault rifle at a violent rally despite widespread media reports seemingly proving his guilt, and national calls for his conviction?

Justice in the Age of Judgement is an unparalleled and unflinching look at the captivating cases tried on Twitter and TV, where the burden of proof and fundamental legal tenet of "innocent until proven guilty" is under assault from the court of public opinion.